Take Your Partner On A Romantic Getaway For Valentine's Day
Give your partner the experience they deserve this Valentine's Day as you whisk them away to the continent. Spend days immersed in European culture and nights gazing across gorgeous cityscapes while cuddled up in each other's arms. With so many incredible destinations available directly from London Stansted, we've picked out a few of the most romantic spots for couples on Valentine's Day:
Venice
Snuggle in the sinking city
Venice is unlike any other city on Earth thanks to its sprawling waterways and unique architecture. The city is one of the most impressive destinations in all of Italy, bearing a quiet beauty as it slowly sinks into the waters of the Venetian Lagoon. Paddling through the canals of the city in a Gondola is a must for any couple. And, once you've worked up an appetite on the water, you can retire to any of the city's superb restaurants to dine on classic Venetian seafood.
Click here to plan your Venetian vacation today >
Athens
A city of timeless beauty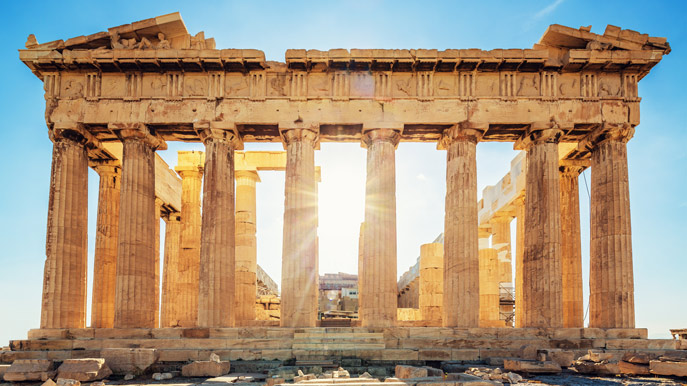 The city of Athens has withstood the test of time with incredible elegance and grace. From its awe-inspiring Acropolis to the spectacular shores of Vouliagmeni, there's more than enough to wow your partner, however, if you want to really impress you could brush up on your knowledge of the ancient Greeks to play tour guide. And as an extra Valentine's Day treat, many of the local theatres put on classic romantic plays, musicals or other performances – which make for the perfect end to a visit to the Greek capital.
Click here to book an Athenian holiday today >
Rome
Italy's heart
When it comes to Valentine's Day getaways, all roads really do lead to Rome. It's the top romantic destination in Europe for a good reason as it offers everything a couple could want. Even if you're not interested in a city break in the shadows of the Coliseum, head into the Roman countryside and you can stay in a treehouse overlooking the incredible landscape. Or if neither of those takes your fancy, you can take a trip out to Lake Bolsena and enjoy delicious food while watching boats travel from shore to shore.
Click here to start your Roman romance today >
Prague
A classic bohemian romance
It's easy to see why Prague is considered one of the most beautiful cities in Europe as it dispenses with the hustle and bustle of Paris or Rome and instead offers a quiet and peaceful escape. Sample the city's world-famous Czech beer as you stroll around the spectacular bohemian architecture. End the day by impressing your partner with a visit to one of Prague's many Michelin star restaurants and you're sure to leave them with unforgettable memories.
Click here to book your Prague getaway today >
London Stansted has so many fantastic destinations for Valentine's day and they're booking up fast.