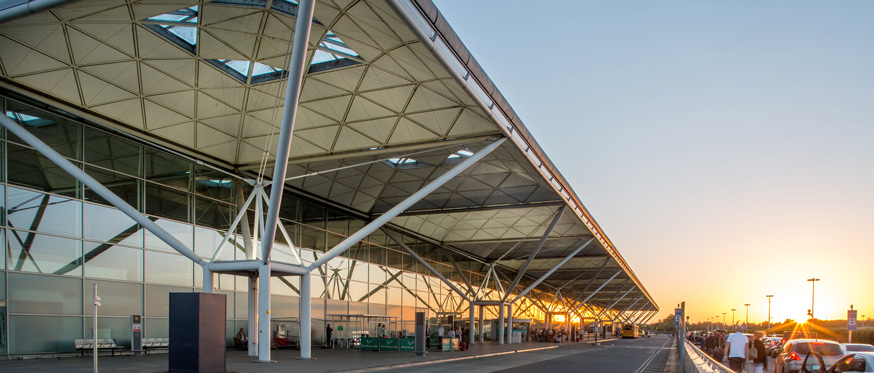 Facilities offered at London Stansted Airport
Making airport shopping even more convenient. Reserve and collect when you fly, or collect your shopping on return to London Stansted.
Find a quiet space for contemplation and prayer while at the airport.
How to connect to London Stansted Airport's free wifi service
Hold your meeting or conference at the airport.
If you need help while at London Stansted Airport, our information desk staff will be happy to assist.
Eligible visitors to the UK can claim VAT refunds at the airport.
Find out everything you need to know about smoking at the airport
Overnight in the terminal
London Stansted Airport is now open 24/7, with early morning flights scheduled as usual. However due to COVID-19, we would recommend that passengers avoid staying overnight in the terminal.
We have a gender-neutral restroom in the departure lounge, after security. You can find this in the toilet area next to Dune.
We have drinking water fountains and reusable water bottle filling stations across the terminal. You can find them in the following locations:
International Departure Lounge (toilet area behind Pret A Manger)

Passport Control

International Baggage Reclaim (adjacent to Reclaim 9)

International Arrivals Hall (adjacent to Burger King)

In the areas of Gates 1-19 and Gates 40-59
Airport facilities
Pre-book Parking
Tick parking off your to-do list today and guarantee your space at a great price. With our cancellation protection option, you can enjoy peace of mind that we've got you covered should your plans change.
Escape Lounge
Start your trip in style in our Escape Lounge. Available to all passengers, enjoy complimentary food and drink whilst escaping the hustle and bustle of the terminal.